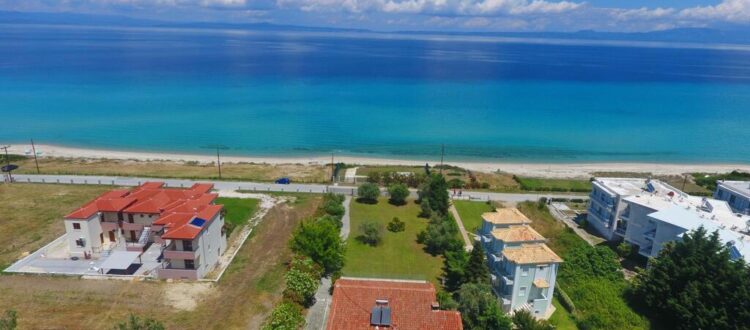 Description
A summer house just by the sea, with a big beautiful yard with trees and flowers! Your vacation will be painted with the blue color of the sea and the green color of the surroundings full of pine and olive trees. And through the night the sea breeze and the calming sound of the waves will accompany your relaxing moments.
If you are looking for a family vacation in a safe and natural environment, this is the place to be. The children can play in the front yard and there is also a second yard across the road, just by the seaside, where you can enjoy the beach underneath the shade of the umbrella and relax on a chaise longue in your secluded spot. The inside of the house consists of 4 bedrooms. Two of them with a double bed and, the other two include two single beds each. One of the rooms has a separate entrance from the backyard, which provides privacy to the room and makes it ideal for someone that searches his/hers  independence from the rest. There are also 4 bathrooms in the house, a spacious living room, and a fully equipped kitchen.
Although the first peninsula of Halkidiki can sometimes be noisy and crowded during summer, this house offers the advantage of being close to the summertime vibe but at the same time preserving your privacy and calmness. Many lovely beaches in the wider area are worth a visit, while you can also explore the unique natural scenery of Halkidiki.
Features
Features:
5 Star Location
Balconies
Barbecue
Big Groups
By The Sea
Close to Sandy Beach
Family
Fully equipped
Great View green surroundings
Modern
Privacy
Spacious
Sun beds
Amenities:
Barbecue
Big Common Space
Big Garden
Flat TV
Free Internet
Parking Space
Sunbeds
Umbrella
washing machine