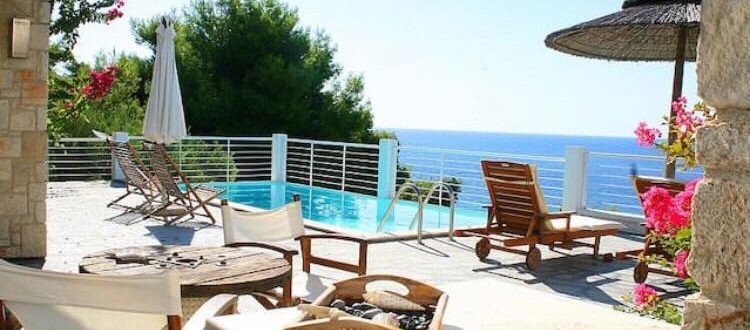 Description
Welcome to Villa Poseidon.
This two level fully equiped Villa with its amazing panoramic view offers a magic sense for your vacations.
Here you will find the harmony and the luxury you are looking for.Its great sense of design,its large and comfortable places leaves no doubt to guests that villa Poseidon is one of the best choises for staying on Posidi village.
On your beautiful mornings in Villa Poseidon you can enjoy your coffee or your drings on the terrace and in the private pool you can enjoy a refreshing swim after your sunbathing in the exterior living room.
Is a five bedroom villa with four fully equipted bathrooms and fully equipted kitchen.Is provided wifi,air conditioning,hydromassage, parking and privacy.
For every kind of its guest either you are a family or friends this villa will provide you everything you need.
If you look at a map or satellite image of Kassandra, it resembles a sort of spindly-looking stocking-wearing foot pointing in a southeasterly direction. To the west, at the end of the heel, is the small resort village of Possidi. At the very tip of the heel is the sandy point of land known as Cape Possidi. It has a lighthouse set back from the water, at about the point where vegetation starts growing, as the sands of the cape are forever shifting. The sand narrows to a bar as it extends into the water, and then, at the very end, curls back on itself like a comma. Setting your umbrella up near the end of the cape is an interesting choice, as you get two beaches for the price of one, with maybe 10 meters of sand separating the two.
Features
Features:
Air conditioning
BBQ facilities
Family rooms
Free parking on premises
Free Wi-Fi
Fully equipped
Private entrance
Private garden
Private pool
swimming pool
Ηydromassage
Amenities:
Cleaning products
Clothes dryer
Coffee maker
dishwasher
Electric kettle
electrical appliances
Essentials
Flat-screen TV
Fully equippped kitchen
Hair dryer
iron
Swimming Pool Towels
Tea/Coffee Maker
washing machine